FREE Delivery on Selected Products
Dispatched within 48 hours
100% Safe and secure shopping
Every cat loves a good cat toy, and we are sure the selection we have on offer will be more than enough to tempt you and your cat. Everything from the real fur mouse to the latest laser toy will give your cat so much fun. Cat toys are designed for interactive use, and it is recomended that your cats are supervised when playing with them. Please check your cat toys on a regular basis, and if you find any loose material or damaged attachment, discard the toy immediately to prevent accidental swallowing. Please dispose of all cat toy packaging responsibly. As they contain small parts, cat toys are not suitable for children under the age of five.
Showing 1–16 of 45 results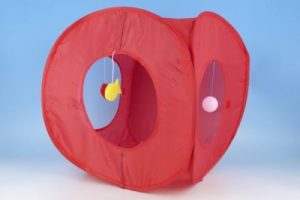 Here is a great toy for cats and kittens alike. Made from nylon on a wire frame, each Cube has three toys dangling inside – two balls and a felt fish. The Cube measures 40cms (16″) x 40cms (16″) x 40cms (16″) Price is for…
VIEW PRODUCT
CUSTOMER PROMISE
We strive to provide a fantastic service with a fair price for all of our products. If you need to contact us for any reason, please call us during office hours, or email us, and we will get back to you promptly to help resolve any issue you may have. Please don't worry if you don't hear from us immediately – we are a small, but conscientious
company, and we will contact you as soon as possible. If you would like to leave feedback, please do so as this greatly appreciated. We try not to make any mistakes,but if we do, we apologise and will strive to rectify them.