FREE Delivery on Selected Products
Dispatched within 48 hours
100% Safe and secure shopping
Tear stains are an unsightly problem for dogs and cats, but we have the solution. Eye Envy tear stain products are all natural, and are highly effective in the removal and elimination of stains. Eye Envy solution and powder are non-irritating, and are guaranteed to be effective in the removal and treatment of tear stains. Eye Envy tear stain remover works at the problem of tear staining – a bacteria infection. It contains a cleanser, an astringent to dry the affected area, herbal flower extract to act as a natural antibiotic, and an antibacterial. Other Eye Envy products include Off the Beard, which is designed to eliminate stains on your dog's beard caused by saliva, artificial colouration within foods and treats, or a yeast infection; On the Spot, which helps to eliminate hot spots and provide instant relief for skin conditions; and On the Paw, which is designed to help heal, restore and protect paw pads. Check out the Eye Envy sub-categories for a full range of products, and more comprehensive product descriptions.
Showing 1–16 of 57 results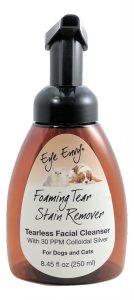 Eye Envy Facial Cleanser is a tearless facial cleanser for dogs and cats. It contains 30 ppm of Colloidal Silver to help remove stubborn stains. For best results, use the facial cleanser prior to using the Eye Envy liquid and powder. Size: 8.45oz (250ml)
VIEW PRODUCT
CUSTOMER PROMISE
We strive to provide a fantastic service with a fair price for all of our products. If you need to contact us for any reason, please call us during office hours, or email us, and we will get back to you promptly to help resolve any issue you may have. Please don't worry if you don't hear from us immediately – we are a small, but conscientious
company, and we will contact you as soon as possible. If you would like to leave feedback, please do so as this greatly appreciated. We try not to make any mistakes,but if we do, we apologise and will strive to rectify them.